A stunning modern blended whisky by Compass Box, which challenges our perception of what defines luxury.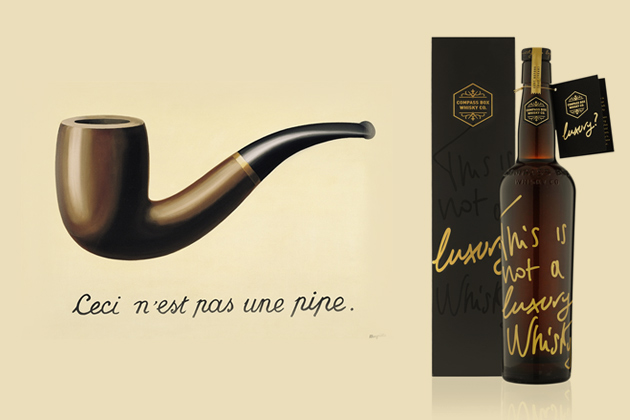 'This is not a luxury whisky' is a brand new 2015 limited edition release, from award winning Compass Box. The blended Scotch whisky was inspired by René Magritte's Surrealist 1929 painting 'The Treachery of images', depicting a smoker's pipe accompanied by the caption 'Ceci n'est pas une pipe', translation: 'This is not a pipe'. Compass Box is widely regarded as a pioneer in the whisky industry, constantly pushing the boundaries of what Scotch whisky can be, and their new concoction is nothing short of a masterpiece.
Their most recent venture has seen them not only make a fabulous Blended Scotch, but also express a statement with their inspired branding. Limited edition 'This is not a luxury whisky', forces us to question what defines our perception of a 'luxury' whisky. Despite our better judgement many of us still tend to judge a book by its cover, and this is often the case when it comes to beverages. Too often we are deceived by self-praise and an aesthetically pleasing design. Although we ultimately want to invest in a product which demonstrates quality in all aspects, it is fundamentally the quality of the whisky itself which should determine whether or not it is classed as a luxury. A quality product should engage all five of our senses to create the ultimate experience: sight, sound, smell, taste and touch. Compass Box are encouraging people to decide for themselves what they perceive as a luxury whisky; reminding people they have freedom of choice. As taste is subjective, a luxury whisky cannot be so simply defined; with 2000-5000 taste buds located on the tongue alone, no two individuals are the same. This is, in our opinion very clever and simplistic branding which differentiates Compass Box from other whisky makers.
Compass Box have expressed that this whisky is to be drunk with the purpose of 'celebrating life's little victories' and should be consumed, rather than left on a lonely shelf to collect dust, but 'above all else, it is to be shared and enjoyed'.
Boutique whisky makers, Compass Box Whisky are one the finest exponents of the art of whisky blending. Having outsourced four quality whiskies and adopting techniques borrowed and learned from the production of other drinks, John Glaser and the team at Compass Box have created 'This is not a luxury whisky' with a delectable blend of Malt and Grain whiskies, aged between 19-40 years.
This Scotch whisky is blended with 79% Glen Ord 19 year old Malt whisky from first fill ex-sherry butts, contributing the subtle essence of sultanas, sherry and floral sweetness; making it perfect for sharing (if you can) at Christmas. 10.1% Strathclyde 40 year old Grain whisky from refill American oak hogsheads, flavouring the blended whisky with deep richness, demerara and cocoa nibs, 6.9% Girvan 40 year old Grain whisky from refill American oak hogsheads with buttery, coconut, vanilla character, and finally 4.0% Caol Ila 30 year old Malt whisky from refill American oak hogsheads bringing hints of herbal, elegant, supple smoke. The result of blending these carefully selected whiskies is a complex, rich, lightly smoky and opulent limited edition 70cl, 53.1% ABV Blended Scotch whisky.
If this sounds like it would satisfy your palette and you are interested in purchasing a bottle, we have sourced the most reasonable sites to buy This is not a luxury whisky. However, you'll have to move fast to ensure you get a taste as only 4,992 bottles have been released. You don't want to miss out!