There is a great deal of buzz surrounding Single Pot Still Whiskey at present and many would say it's been too long in coming. For those uninitiated into the fold, it's worth mentioning just what defines this quintessentially Irish style of whiskey and what it is about the flavours produced that sets it apart from others. It is indeed produced in pot stills, but more importantly the mash mill is made up of both malted and un-malted barley, leading to an oily, richly characterful make that can offer considerable complexity and depth.
The Midleton Pot Still range has recently seen the addition of several new bottlings, all of which have drawn widespread praise. The Powers John Lane 12 year old is well worth a look (check out February's Whisky Marketplace staff picks), while the Barry Crockett Legacy offers a rare chance to taste the style with some extra age and oak influence. This new Cask Strength version of Redbreast joins the reliably excellent 12 year old at 40% and 15 year old at 46%, and has already received the Whisky Advocate Award for Best Irish Whiskey of the Year 2012.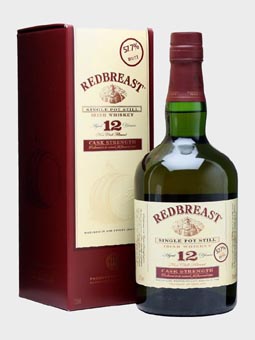 57.7% abv
Nose:
Quite spirituous and nippy at first nosing but, being careful, there's a lovely herbal freshness here; tarragon, light mint and lemon zest with a swathe of sweetness building on vanilla cream and almond based gianduja paste. Water certainly opens things up and pulls a great deal of pot still whiskey's typical buttery oiliness forward alongside a lovely range of honeyed fruit; ripe plums, tangerine and poached pears in syrup. Time and a little more water draws out some nice grassy, extra virgin olive oil aromas and a wonderful hint of strawberry and cream.
Taste:
Some cereal notes up-front with sweetened porridge and clarified butter, followed by polished, spicy oak. Some fruitier notes push through the peppery spice; red apples and grapes with a background of the grassy, oily tones found on the nose. The spices grow slightly dusty towards the finish with a dry nuttiness in the background.
Feel:
Oily and coating but light enough to remain fairly elegant.
Finish:
All quite dry and still spicy with a little mace and toasted oak. Some faint touches of vanilla here and there but, surprisingly, there isn't a great deal of length here.
Comment:
I am left with mixed feelings about this new Redbreast and can't say I'm quite as convinced as I had hoped. For this taster at least, the spicy oak on the palette is a touch too assertive and the finish drops away rather sooner than I would have liked, both taking the edge off proceedings. Aside from these points though, this is certainly a worthy addition to the category, displaying a truly excellent nose which is in line the very best examples of the style. Close, but perhaps I will have to wait for a later batch to find my perfect Redbreast.
Find the best price to buy Redbreast 12 year old, Cask Strength