Few distilleries closed or otherwise have a more ardent following than Port Ellen. Drinkers, collectors and speculators scramble to buy the best bottlings, meaning few of the more revered releases remain on shelves for long. The official bottlings in Diageo's annual "Special Releases" collection are particularly good examples, with last year's 11th release disappearing as soon as it was listed on websites or stocked on specialist's shelves. This caused much irritation among retailers who failed to get the allocation they had hoped for and, as you might expect, that particular bottling is now being sold for considerable profits on the auction market.
Between the notable retail prices, feverish purchasing and speculating, the official releases are less than accessible for the majority of whisky fans. This, happily, leads us to the independent bottlers as even with such a following Port Ellen remain one of the best represented of all closed distilleries. It's true that things seem to be slowing and the stock is obviously finite but, for now at least, retailers have a whole range of single cask bottlings on offer and with Port Ellen whiskies being particularly consistent, there are many excellent casks amongst them.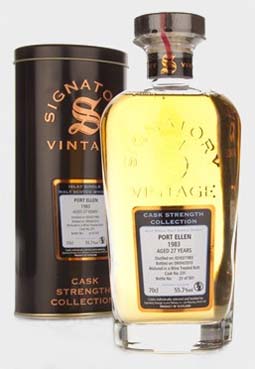 55.7% abv, c#231, 501btls.
Nose:
Instantly lively and fresh with clean coastal peat, light medicinal notes and then an earthier component of tar/diesel oil and driftwood. This is all very Port Ellen and grows even more so with some classic "peated lemon candy" sweetness, pink grapefruit and almond oil. Time and a little water emphasises the coastal side; rock pools and salt mixed with lime juice. A lovely nose in all respects.
Taste:
Nice delivery on candied lemon rind and pineapple, all surrounded by soft coal and faintly earthy smoke. Some chalky/stoney suggestions follow alongside mounting coastal notes; lime, salt, brine as in the nose and then a turn into hints of fresh leather and bitter almonds. Quite bold but with a tempering background sweetness.
Feel:
Fairly oily and coating but still rather clean.
Finish:
Quite long and harmonious with a mix of gentle sweetness, soft smoke, brine and faintly toasted oak. Still classic distillery character but with a touch of earthiness adding some roundness and a little sandy quality in the length.
Comment:
Lovely stuff that mixes the distillery's different characters beautifully and is another example, if one were needed, of great quality independently bottled Port Ellen. This release from Signatory is now quite difficult to find but it is by no means the only bottling of such quality in their, or many others, ranges. Personally I'm often baffled by some people's seeming blindness to these great casks in favour of the Special Releases, as there are so many quality Port Ellen's available and, with some research, even the odd bargain to be found.