anCnoc - distilled at the Knockdhu Distillery - is a brand that has won many friends in recent years with its elegant, well made, and delicately flavoured whiskies. One thing it isn't known for is rich, peated whisky. But that is about to change with the release of three, limited edition, peated expressions.
Here at Whisky Marketplace we're fans of good graphic design and we're always struck by the beauty of anCnoc's packaging. These expressions are no exception. Each carries an illustration of, and is named after, a traditional peat cutting tool.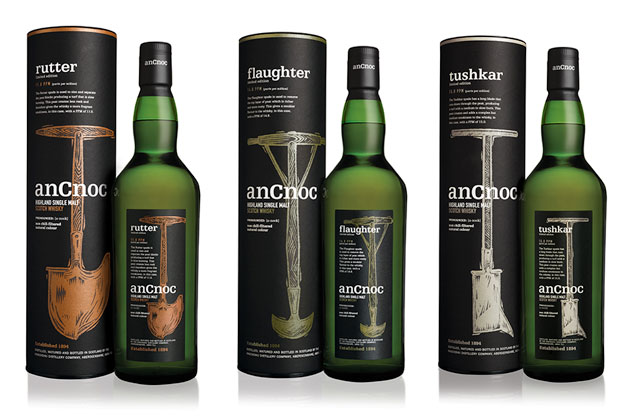 The three expressions are called Rutter, Flaughter and Tushkar. They range in peating levels from 11ppm to 15ppm which stops some way short of what one might describe as "heavily peated". To put that in context, Ardbeg typically has a ppm of 54 and Laphroaig a level of 40ppm. So it seems likely that the peat in these expressions will be an added dimension to the fruit and spice notes we associate with anCnoc rather than completely dominant.
At the time of publishing two of the expressions are available through our regular retailers, prices for anCnoc Rutter can be found here. For up to date prices and availability of anCnoc Flaughter, see this page.