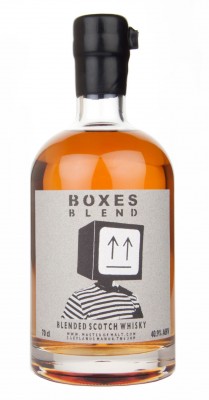 The ever-innovative folks at Master of Malt have announced details of a new Blended Whisky, conceived in conjunction with Athlete bassist and long time whisky lover Carey Willets, in celebration of his side-project 'Boxes'.
Mr Willets' introduction to Master of Malt and involvment in the whisky world may be relatively recent, but whisky itself has been a long running passion for the bassist. "Whisky's always been a big part of my musical history—they both enhance each other. Enjoying whisky and music together is a life-affirming experience."
The blend is said to be "smooth and sweet with a bit of smoke on the end" and was always intended to appeal to a wide audience with a varied profile; "When we first began blending we ended up with a light and almost summery whisky, and it was nice, but not quite right. The Boxes Blend needed that hint of smoke, so we kept working until we got it right. My hope is that Boxes Blend has something for everyone."
Both Boxes' 2012 EP 'Silent Alarm' and Master of Malt's Boxes Blended Whisky are available now, and both look to be well worth checking out.