Many of Scotland's closed distilleries command huge respect in the whisky world and Lochside distillery is no exception. Unlike classic names such as Brora or Port Ellen which succumbed to the "whisky loch" of the early 1980s, Lochside struggled on through its varying fortunes before finally being closed for the last time in 1992. Sad though it is that the distillery is no more, we can at least take consolation in the knowledge that it should still be some time before stocks disappear altogether.
Over the last couple of years it has been a range of bottlings from 1981 and a couple of well received Single Blend casks from the mid-60s that have flown the Lochside flag, and there are certainly some beautiful casks among them. Here we see another 60s example, only this time without the grain component and bottled by the ever-excellent Malts of Scotland. 1966 has long been thought of as a landmark vintage for lovers of the distillery, some of the casks were "fruit-bombs" of the highest order, while 67 has been rarely seen. Regardless, tasting a Lochside such as this is always a treat, and the bottler only increases the expectations.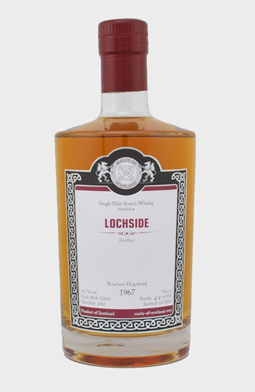 41,7% abv, bourbon hogshead, MoS 12016, 115 btls.
Nose:
A soft, graceful old nose with some dusty wood, dunnage floors and old bung cloths backed by beautifully delicate fruit notes of kiwi, papaya, peach cream and a faint note of frosted berries. A blend of precious, aromatic woods and metallic notes come next; graphite powder and aluminum cans. The complexity is very impressive as a whiff of old fireplaces and pipe tobacco start to develop alongside some candied grapefruit and mint tea.
Taste:
A wonderful delivery, soft and elegant with a mix of fruits; papaya, kiwi, mango, a range of herbal and fruit teas and developing spices of cardamom, coriander seed and cinnamon bark. Things remain gentle and delicate through the mid palate also with a thread of dusty soot, metallic suggestions and a hint of fresh quince as the oak starts to take full control.
Feel:
Soft at this strength but with enough body and the richness of slow evaporation.
Finish:
Old, refined wood with the spirit beginning to creak beneath its weight; green tea, a range of subtle spices, fennel seeds and quality liquorice. Some leather, soot and old hessian remain in the length.
Comment:
A genteel old Lochside with neither the exuberant fruitiness of many a 66 or the flinty, grassy edginess found in some of the 81s. Instead this is a whisky of refined elegance and great subtly, beautifully soft and fruity in parts but slightly frail and over-aged in others. For me this finds an almost indefinable balance, and I love it for that, but you should certainly taste it before parting with you pennies as it is sitting on a knife edge of age that will cross the line for some.