In the main this blog has so far focussed on recent, if not always widely available bottlings from both the distilleries themselves and Independent bottlers alike.  Those that are generally only seen within the walls of an auction house or, if you are lucky, poured at the hands of a dear and probably quite affluent friend have so far been neglected.  Not so today though, as it feels like as good a time as any for something very special indeed.  Bottlings like this 12 year old White Horse Lagavulin offer a rare, often deeply delicious chance to build some sense of the way in which whisky has changed over the years.
Lagavulin whiskies certainly enjoy one of the most consistently fine reputations of any single malt, the now classic Lagavulin 16 year old is a staple tipple for a great many whisky lovers and every bit deserving of such a position.  The distillery must surely be one of the most beautiful and evocative in Scotland but, in a production sense, it was a very different place when the spirit that found a home in these White Horse bottlings was distilled.  Flowing from the stills in the mid-late 1960s, this Lagavulin pertains from a time of on-site floor maltings and a much more hands on approach to production, something the whisky itself lays bare with stark clarity.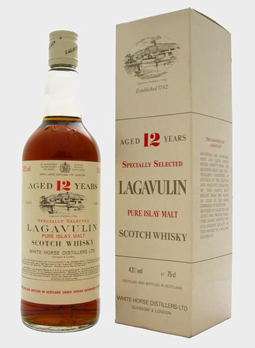 1970s, glass code SD133, 43%, 75cl.
Nose:
A gloriously oily, slightly metallic and industrial first impression; motor and graphite oil, paraffin and then coastal notes of dry, salt-crusted peat, old dry creels and those tarred ropes. A blend of exceptionally delicate fruit comes next with hints of guava, green plum and white peach but always surrounded by the dry phenols and salt. Time is essential here as the development is slow and incremental but rewards with suggestions of mossy earth, dried seaweed, candied clementine and whiffs of stable yards.
Taste:
Soft and yet rich on delivery with a near perfect integration of delicately metallic peat; the graphite/aluminium notes and salt infused coal smoke forming a beautifully balanced whole. There is plenty of complexity bubbling beneath though as salted lime and something beautifully acrid begins to develop past the mid palate; pig sheds, smoked hey. Touches of aniseed balls, stoney minerals and dried herbs mingle into the finish.
Feel:
Soft, elegant and gently oily.
Finish:
Medium length with flickers of fruit bathed in those distinctly oily, metallic phenols. The mix of great delicacy and robust body persists; soft seaweed, herbal teas, dried tarragon/fennel seed and faint farmy suggestions, slowly fading.
Comment:
A truly remarkable whisky, every bit as exceptionally characterful and delicious as one could hope and, the effects of bottle ageing aside, a clear example of the changes even consistently excellent distilleries have been subject to. The character you often find within these rare old beauties is a lost, infinitely evocative experience, as unendingly poignant as it is magnificent. Lasting thanks to Angus for his continued help and generosity.