If Japanese whisky now stands as an equal to Scotch, then it must be said that this status is owed in no small part to Karuizawa whisky. This sadly closed distillery was a small, craft orientated operation and resolutely adhered to a production centred around Golden Promise barley and the finest Sherry casks available. However, the quality of Karuizawa's output was discovered too late as, like Port Ellen for example, the spirit requires long maturation to reach the heights that have garnered it such widespread praise in recent years.
This example was bottled for this year's The Whisky Exchange -Whisky Show and managed to stand out among the events veritable Smörgåsbord of dramming delights – not to mention several other spectacular Karuizawa's -. Its offers a rare opportunity to taste the distillery's make devoid of the heavy sherry-influence that has helped build Karuizawa's near mythical reputation, and thus maybe offering us a clearer glimpse of what was undoubtedly a top-quality new-spirit.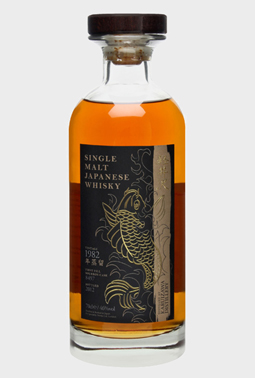 First Fill, The Whisky Exchange Exclusive, 46% abv.
Nose:
A beautifully rounded start with early notes of toffee, apricot cream and mint alongside a mix of pencil shavings and cut cedar that add a certain bourbon-like quality to the profile. A little warm plum tart note develops and is contrasted perfectly by some fresh cut coriander. Time draws out suggestions of sandalwood and gentle notes of oak polish. Not hugely wide perhaps but complex and rich enough to entertain.
Taste:
Bold, lactone-rich oak takes centre stage on delivery with creamy vanilla, white chocolate and a little of the cedar from the nose. Things soften quickly as honey and buttery toffee blend with a lovely and almost unexpected touch of red apple. A certain, well balanced sourness develops towards the finish; green tea, gooseberry jelly as the oak grows faintly dusty.
Feel:
Silky and supple.
Finish:
Rounded and rather long on gentle gingery spice, lightly mentholated oak and a mix of faintly tart fruit. Retains a lovely balanced throughout, even with this level of cask involvement.
Comment:
Karuizawa rarely disappoints and this unusual example is no exception. It's quite a departure from the more familiar, heavily sherried profile associated with the distillery but it's certainly not lacking in cask influence. This is still full of character and while the wonderfully integrated, full bodied American oak plays a key role the spirit was clearly of great quality.
Find the best price to buy Karuizawa 1982, Bourbon Cask #8497