For the better part of a decade now Glenmorangie has been constantly associated with a willingness to experiment. The company's Distilling & Whisky Creation Director - Dr. Bill Lumsden - and his team have long advocated the cask as the dominant factor in the final character of a matured malt, augmenting their ever-popular 10 year old with wine-cask finished bottlings such as Quinta Ruban (extra-matured in port casks) and an annual "Private Edition" release.
Last year saw a break from what had been a thoroughly modern series, and instead looked to what was an old style of Glenmorangie which, like the vast majority of distilleries, would have included more than a touch of smoke in years gone by. In contrast, 2013's Ealanta reads as quite the opposite; matured exclusively in virgin oak casks for 19 years, this could well be the very model of a modern vanilla drenched single malt.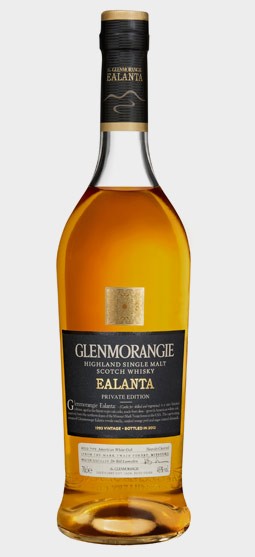 1993 Private Edition
Nose:
Certainly an extremely expressive, open start with a huge swath of syrupy sweet apricot and the almost unavoidable, notably heady vanilla. A little pine oil and peppermint push through the early richness, alongside some treakle toffe, cocoa and festive-spiced orange marmalade. Develops on baked apples and a range of fragrant honey's over time. Very attractive and certainly with all the hallmarks of fresh American oak, if not terribly wide.
Taste:
Hot, peppery wood-spice on delivery; nutmeg, cinnamon and cayenne with an edge of sappy, sour oak and, of course, more vanilla. The resinous character underpins throughout but does allow notes of poached pear, vanilla enriched stock syrup and dried apricots to add some balance. Past the mid-palate things die down a little more quickly than expected with some toasted wood, pencil shavings and flickers of spice leading into the finish.
Feel:
A lovely balance; both peppery and smoothly coating.
Finish:
A touch flat but still with some persistence; vanilla, honey-fudge and those woody, resinous suggestions of pine, freshly cut wood and toasted oak.
Comment:
An almost unavoidably bourbon-like take on Glenmorangie but, somewhat miraculously, the wood fails to completely dominate or give the impression that this release is simply "over oaked" . It's an ultra-modern style of scotch and one that will appeal to a wide audience with its exuberance and accessibility, though for those of us who would prefer to see more spirit character in our bottlings, one to experience rather than indulge in.
Find the best price to buy Glenmorangie Ealanta