Gordon and MacPhail, a name now steeped in history and with a reputation for foresight and quality that spreads throughout the core of the industry and beyond. When blends were king and the words "Single Malt" were spoken by a reverent few, Gordon and MacPhail were quietly laying down stocks with the idea that soon enough, the output of a single distillery would be considered the pinnacle of sophistication for whisky drinkers. What was considered an eccentric idea at the time has now become an example of exceptional vision, a vision that has helped many distilleries through difficult times.
This unending faith in the quality and longevity of Scotch whisky is now paying great dividends, leaving this family owned company with some of the most enviable casks in existence. In March 2010 Gordon and MacPhail launched its Generations series and shared with the world a prime example of what has made their company different for so many years; the oldest whisky yet released. This 70 year old gem from the Mortlach distillery belied its age with a delicate grace and richly fruity personality. This was to be followed just a year later by a similarly remarkable Glenlivet whisky of the same age. The second batch – of the same bottling – has recently been launched in Canada, giving us a prime excuse to revisit and review this rather special whisky.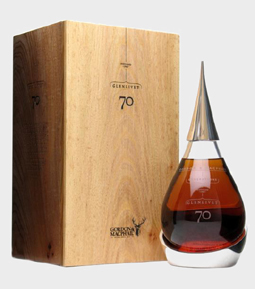 Gordon and MacPhail "Generations" 1940-2010, 45.9% abv, Sherry Butt #339.
Nose:
A Delicate but not fragile first impression, with a great deal of somewhat zesty fruit to the fore; tangerines, kumquat, papaya and mirabelle plums along with hints of mango and passion fruit. Gentle threads of soot and ash hint at a pre-war style distillate while touches of exotic spice; crushed coriander and cardamom give a suggestion of its great age. Time is a must of course, drawing out some lovely notes of fig paste, almond fingers, resin, fennel and a little waxy, polished oak.
Taste:
Mirrors the nose on delivery but now mixes the orangey citrus with a more candied range of fruit; crystallised pineapple and papaya alongside a squeeze of passion fruit. Soon enough the wood comes forward though – common after "only" 30-40 years after all - with building notes of resinous oak, leather and varied herbal teas. A little of that sooty, old fireplace-like smoke lingers towards the finish, while the whole retains a sense of refined fragility and elegance.
Feel:
Satin-like and with a certain residual richness.
Finish:
Long and drying, but gently so and with no aggressive tannins to speak of. Many notes flicker in the length; candied oranges, green tea, aniseed balls, and yellow plums all take turns to whisper beside the rounded, polished and refined oak.
Comment:
It is understandably difficult to be objective in the assessment of a whisky like this. The sheer thought of how the world has changed since the boys of Glenlivet saw this, their legacy, flow from the stills is enough to colour the view of even the most cynical taster. Here though we need not worry, certainly it's a huge privilege to taste such a spirit but equally the quality is remarkable, showing a freshness that is a testament to both Gordon and MacPhail's cask management and their far-sighted approach. A great deal more than a curiosity designed only for collectors, this is a genuinely delicious time capsule.
Find the best price to buy Glenlivet 70 year old