The name Glenlivet is undoubtably one of the most recognisable of any brand in the world of Scotch, and a quick search online will yield a whole raft of reasons why. Be it the early date of licensing, the request of kings, or the reputation of quality that led so many distilleries to label their own Whisky with the name of this early pioneer, word of The Glenlivet's quality travelled far beyond the rolling landscape of Speyside and solidified its future position as the second best-selling Scotch Whisky brand in the world. Indeed walk into almost any half-decent pub or bar, and it's likely you will see a bottle of Glenlivet whisky on the gantry, making it one of the most commonly enjoyed whiskies by casual whisky drinkers and budding enthusiasts alike.
So then to us, the whisky geeks, the closed distillery worshiping, note scribbling fraternity of whisky lovers who frequently, to our shame, overlook the commonly encountered in favour of ever alluring obscurity, what does this grand old distillery have to draw us back? Well, a fair amount as it happens, and with Glenlivet Nadurra we find perhaps the most available example. Firstly, as you may well know, the name Nadurra means "natural" and those in charge of The Glenlivet should be applauded for offering a truly "craft orientated" bottling from a distillery more often associated with large volumes and consistency of character. It is un-coloured, non-chill filtered and bottled at its vatted strength; enough to pique the interest of many a jaded whisky cynic, particularly with it's accessible price tag.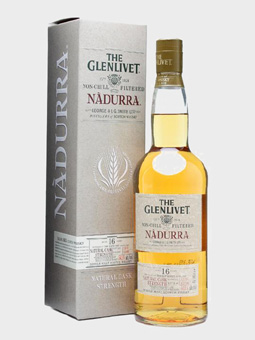 53% abv, batch# 0911P, bottled 09/2011.
Nose:
Quite spirituous and nippy at first nosing but with a pleasing inviting and thoroughly modern blend of creamy vanilla, dusty cereals and a sprinkle of pencil shavings, backed up by a mix of orchard fruit; fresh, acidulous apple, dried pear and a squeeze of lemon juice. It's not all hyper modern American oak dominated whisky making though, as an edge of raw wool and, after several additions of water, a fuller more rounded range of developing fruit notes push through; sweet oranges, peach and pineapple.
Taste:
The fruit comes first on delivery with a combination of yellow and green apples surrounded by a building, lactone-rich creaminess of vanilla and coconut with a smattering of peppery wood spice. Some buttery American oak and ginger leads to an almost bourbon-like feel in the mid palette but, as was found in the nose, water opens things up and in drawing back the vanilla-rich oak, allows some lovely pineapple/orangey fruit to show through.
Feel:
Supple, coating and peppery at full strength.
Finish:
Continued sawn oak, bourbon vanilla and a developing nuttiness of toasted almonds on a background of dried ginger, flickering citrus and green fruit.
Comment:
An interesting, varied Glenlivet all round with a great deal of American oak influence at full strength, while the fruitier complexities of the spirit start to find their full voice after some breathing and a good splash of water. In many ways this is an archetype for modern Speyside whisky; high quality spirit bottled as we would all hope, and a much appreciated flag in the sand which can only encourage the other big brands to issue more "natural" releases such as this.
Find the best price to buy Glenlivet 16 year old, Nadurra