There are some distilleries that are very easy to get excited about and since re-opening in 2008 after 22 years of closure, Glenglassaugh distillery has certainly been one of them. This is due in no small part to the new owner's success in utilizing as much of the existing plant as possible, and their desire to adhere to the spirit style that was produced at the distillery throughout its long and turbulent history. Perhaps even more exciting though was the prospect of some of the distillery's existing stock finally seeing the light of day, and with luck, finding its way into our respective and expectant glasses.
So it is then that we move to this 1976 release, the first of what will be a continued series to feature casks chosen by members of the distillery's staff. This refill sherry butt was selected by Ronnie Routledge, Customer Account Manager, a deeply helpful, engaging gent and in this case the envy of us all. It is a dream of most whisky lovers to be allowed amongst the wonderful old stock of a wonderful old distillery, to taste, consider, select and bottle their particular favourite and offer it for the world's enjoyment. However, when it must compete with the quality of bottlings like those seen in Glenglassaugh's Manager's Legacy series (try to taste the Manager's Legacy Jim Cryle 1974) it's also a task with at least a modicum of pressure.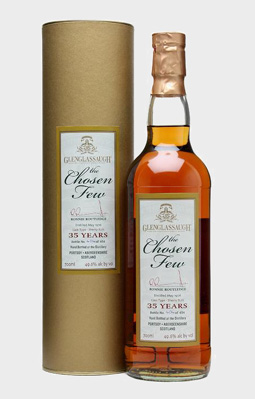 35 year old, Ronnie Routledge, 49.6% abv, Sherry Butt, 654 btls.
Nose:
Starts with a beautiful, slightly flinty fruitiness of tangerine, kumquat, passion fruit, apricot and a little sharp gooseberry with a developing, warmer backdrop of candle wax and plum tart. A dryer quality of herbal liqueurs, walnut and cedar comes next alongside some nice, oaken suggestions of cigar box and candied ginger.
Taste:
Very much alive and edgy on delivery with a mix of bright citrus; the tangerines and kumquats prominent on the nose, with a slightly minty, herbal character in the background. A touch of warm beeswax and apricot comes next, alongside building oaky notes of pine resin and dry, green tea that are softened by a mix of faint mango, dried figs and manuka honey heading toward the finish.
Feel:
Nicely coating with a velvety richness.
Finish:
Quite long, with a light herbal bitterness, apricot stones and developing wood spices of ginger and cinnamon that grow slightly resinous in the length. Some faint hints of wax and mango persist.
Comment:
A truly beautiful Glenglassaugh then, and one I would happily recommend in a heartbeat. Having said that, you do need to be comfortable with a fair chunk of wood on the palate, but if this is within the bounds of your taste (it certainly is mine) then between its varied, edgy fruitiness and more rounded waxy qualities the nose alone can entertain for hours. Many thanks and congratulations to Ronnie on his selection, it is quite individual but compares to the distillery's best with ease.
Find the best price to buy Glenglassaugh 1976 - The Chosen Few