The name Glenfiddich is perhaps the most widely recognised of all single malt brands around the world and while it is seen in the vast majority of bars, it is also widely overlooked and disregarded by many whisky lovers. This is a real shame considering that all distilleries offer at least a few gems to discover and equally there is always something to be learnt from revisiting the big names, regardless of their price, availability and past experiences.
This revamped Glenfiddich 21 year old "Gran Reserva" has been finished in Caribbean Rum casks for a short period of only four months, which could be a good thing for those previously stung by, or perpetually dubious about, the benefits of extra maturation. That being said, it appears Rum finishes don't quite induce the rolling of eyes or recoiling of noses that several other casks choices tend to, and are often regarded as being rather successful.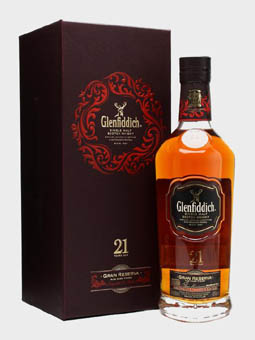 40% abv, Caribbean Rum Finish
Nose:
A varied first impression, showing a mix of muscovado caramel and sweet fruit in the form of apricot syrup, candied orange and red toffee apples. Some background notes of old wood, with a slightly mossy suggestion of forest floor and then contrasting floral hints of heather and a little Turkish delight. The spicy oak draws in with time and evolves on notes of cedar, cinnamon and a surprising hint of saffron. A fairly open nose; expressive with good development and some interesting complexities.
Taste:
Gentle but well flavoured on delivery, mixing the sweet fruit and caramelized notes from the nose with leather and an expanding set of dry, oaken spices. It is all very well integrated and without any rough edges to speak of, but perhaps also lacks a sense of great individuality. Moving past the mid palette the oak seems rather fresh with quite a lot of vanilla and cedar being tempered by a little sultana and gentle honey.
Feel:
Light, soft and just coating enough to avoid feeling watery. Might improve had this been bottled at 43-46%?
Finish:
Some mellow, cinnamon-led spice, toasted oak and aged leather. Drops away quite quickly and again this may be a factor associated with the reduction to the "bare minimum" bottling strength of 40%, enjoyable and rather clean regardless.
Comment:
Quite an oak-forward bottling from Glenfiddich and it should be said that this isn't my favourite style. With that in mind, and while this 21 year old may not be my pick of the range, it is unquestionably well-made and likely to please those who enjoy the well regarded Rich Oak or 15 year old bottlings, offering a similar profile but with some extra depth and a greater sense of luxury.
Find the best price to buy Glenfiddich 21 year old, Gran Reserva