It's the first review of 2013 (whoop etc) and as is customary here at the WhiskyMarketplace blog, that will do nicely as a excuse to feature a rather special dram from one of our favourite distilleries. Glenfarclas whiskies are perhaps best known and appreciated in the form of old, well-sherried bottlings and indeed, as a result of the distillery's continued family ownership, for its enviable stock of such casks. This release, from what is now the oldest vintage left slumbering in their warehouses, was released last year and predictably caused quite a stir. With the likes of our good friend Serge Valentin involved in the selection of this cask, the liquid was sure to be excellent.
Glenfarclas is best known for its relative focus on "drinkers" Whisky and though admittedly the older vintages within the disillery's Family Casks series are anything but cheap, comparatively speaking they are far from the dizzying prices we are coming to expect from the world of old, "ultra-premium collectors" malt. With that in mind, this release came as something of a departure, being bottled for Polish investment firm Wealth Solutions and presented in a rather fetching, beautifully crafted oak box. Happily, the Whisky was well distributed to interested parties so at least a number have been lucky enough to taste this, the oldest Glenfarclas yet bottled.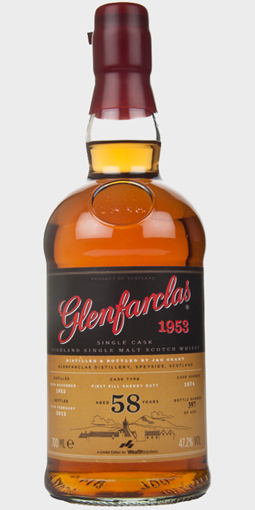 Bottled for Wealth Solutions, first fill American oak sherry butt #1674, 47.2%abv, 400 btls.
Nose:
Instantly complex and beguilingly integrated with a veneer of polished oak, mint leaves and old humidor/camphor notes slowly giving way to a rich sweetness; dark honeycomb and coconut. A gentle, aged fruitiness builds after a few minutes as lovely suggestions of dried apricots, flamed sultanas, quince jelly and rooibos tea come to the fore. The age grows even more obvious with time but in only the ways one might desire from such a profile; old cigars, dried herbs, book dust, top soil and a a mix of both faint meatiness and a fragmented thread of coal smoke. A wonderfully layered profile that wears its obvious age with grace.
Taste:
Certainly rather peppery and somewhat sappy on delivery but well within the limit and softening quickly. Lots of mentholated notes come next; mint, eucalyptus and juniper oil, alongside some nice walnut centred nuttiness and vanilla-rich lactones. A myriad of elegantly drying teas come through in the mid-palatte and are joined by the sultana and apricot notes found in the nose. Those dusty, gentle hints of smoke, old herbs and soft leather return toward the finish. A profile obviously born of long maturation but in spite of this the tannins are remarkably restrained, the overall impression being of both complexity and freshness.
Feel:
Oily, viscous and coating.
Finish:
A slow burning and remarkably varied blend of notes that mixes the more herbal, drying side of the profile with toasty oak, mentholated fruit tea and a background of American oak-led sweetness; coconut macaroons, precious woods and an interestingly metallic smokiness.
Comment:
Glenfarclas is a truly great distillery and - arguably - it shines brightest when a great deal of age and a wonderful sherry cask are involved. In this case we have both; this may not be a sherry-monster but it is a prime example of how glorious many of these old American Oak shipping casks really were. The wood fostered all the depth and rich complexity possible, but equally the spirit was robust and characterful enough to retain its individuality and freshness through the years.
Find the best price to buy Glenfarclas 58 year old, 1953-2012