As decades have rolled by the world of sherried whisky has changed dramatically. The days when old oloroso shipping casks were a primary vessel for Scotch storage have shifted to a point where the bourbon barrel is now king, with sherry maturation dominated by so called "bespoke" casks, seasoned with fresh sherry, tiered solera casks or sometimes those dressed with paxarette. These changes have affected both the flavour and perception of sherry influenced whisky dramatically, be it the clearly sulphur tainted examples we find, or the unavoidable comparisons to the remarkable Macallan whiskies, Glenfarclas or Springbank sherry monsters distilled before the mid 70s. While all whisky has changed, well-sherried malts have seen a particularly notable transformation.
Glendronach is another distillery marked by the use of ex-sherry casks, being perhaps the shining light of the style over the last few years. The 1972 single casks have led this charge, every bit as truly exceptional as the best of those previously mentioned and just as desirable for it. While, as was bee commented in our review of the Glendronach Grandeur, it's clearly difficult to avoid focussing on such staggeringly good single cask bottlings, there is much to recommend in the distillery's more accessible wares. The 15 year old Glendronach was particularly well received after the range was re-launched under the guiding hand of Billy Walker's BenRiach Distillery Company, showing a wonderfully old-style sherried personality. Some batches have displayed a little more sulphur than would please certain tasters though and speaking personally it is this 18 year old, named "Allardice" in honour of the distillery's founder, that has held greater consistency.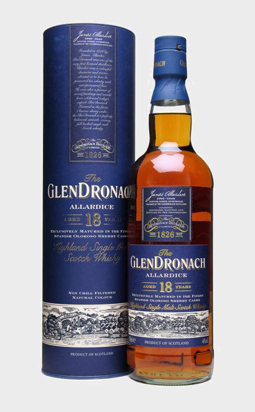 Official Bottling, 46% abv.
Nose:
Clean, focussed sherry with a mix of classic notes to the fore; orangettes, praline, tangerine, bow rosin and a hint of struck-flint smokiness. Develops further on juicy, macerated sultanas and apricot jam glazed walnut cake backed by a faintly suggestion of damp earth. Time draws out a beautiful mix of kirsch and muscavado. A classic, slightly dark sherried profile with enough body and depth.
Taste:
Quite bold on dry walnuts, well roasted coffee beans and treacle backed by the dark chocolate and orange rind notes from the nose. A certain slightly green sappiness develops through the mid palate and seems to cut short the development. Quite savoury towards the finish with more toasted nut notes and a faint grassiness.
Feel:
Silky, rich and coating at 46%.
Finish:
Quite long with touches of toasted oak, ginger, faint sultana and dry earth. Suggestions of green tea and anise flicker through the length.
Comment:
High quality, classically sherried malt whisky in all departments. With that said, this latest batch is missing some of the width and gentle sweetness on the palate that I remember from previous bottlings. The 15 year old may remain the best when at its height, but this 18 year old still offers a level of safety for those that fear that "S" word.
Find the best price to buy Glendronach 18 year old, "Allardice"