It's been too long since one of the Compass Box whiskies has featured on the blog, and that certainly isn't down to a lack of new and interesting bottlings on their part. Last time we did take a look at one of John Glazer and Co's releases it was a new addition to the company's core range in the form of the Great Kings Street Arist's Blend. This time around it's a more limited bottling and 2012's version of the much admired Flaming Heart.
This is the fourth incarnation of the company's typically peated, annual blended malt and like the others this version has already found favour in a number of quarters. As before, this new version is composed of highland and Islay malts alongside Compass Box's ubiquitous French oak, but this time a little sherry influenced stock has found its way into the mix. A comment must be levelled at the work that has clearly gone into the packaging of this release – and the vast majority of the company's other bottlings for that matter, its simply beautiful; let's hope the whisky is likewise.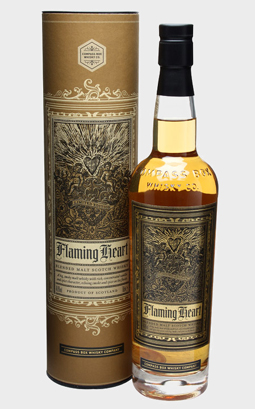 2012 Edition, 48.9% abv.
Nose:
A bold first impression that mixes stable yard peat with charred earth, garden bonfires and oak smoked ham. This rather uncompromising first impression is continued by crushed nettles, tweed, a little damp wood and a suggestion of iron tablets. Water softens things somewhat and draws forward some fruit; orange oil, tinned peach and then something just faintly butyric.
Taste:
A mirror of the nose from the outset; earthy peat that shifts between the bonfire smoke, charred grass and a more phenolic, slightly medicinal character. Things calms down towards the mid-palate with some creamy, almost milky vanilla and butter toffees. The sweet fruit makes an appearance into the finish but is delicate and restrained.
Feel:
Silky and evenly coating.
Finish:
Quite long of course with worn leather and a candied ginger/toasted mace spiciness. A little black pepper mixes with burnt leaves and softening phenols in the length.
Comment:
This is clearly another well composed, intricately balanced release from the self-styled kings of boutique blending. It's quite a savoury and even austere whisky at times, and in that regard it differs from the often highly accessible character found in much of the Compass Box range. If you fancy an interesting change to the peaty side of your shelf this is certainly worth a try, and if you don't like it the bottle will look great regardless.
Find the best price to buy Compass Box - Flaming Heart