After last week's excellent 1989 Clynelish whisky from The Malts of Scotland it seemed like a good idea to try a new and younger example from Dominiek Bouckaert's The Whiskyman classic label series. Dominiek also released a 1997 in his first batch of Whiskyman bottlings, and along with various releases from Berry Bros & Rudd, Archives and a number of others, it has been a well-represented vintage for some time.
This cask was split between this new label and the Dutch festival Whisky in Leiden and is a refill sherry hogshead, though it should be said that the colour suggests that any sherry influence will be minimal. I probably waxed lyrical about the joys of Clynelish enough in our post on the Clynelish 1989 Malts of Scotland, I doubt it will be the last, so let's simply say that these younger examples after frequently worth keeping on your shelf.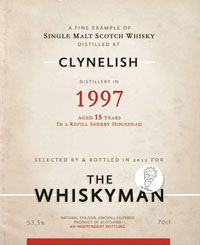 15 year old, 53.5% abv, Refill Sherry Hogshead, 180 btls.
Nose:
Quite austere and freshly youthful at first nosing with a little paraffin and some grassy, mineral notes of granite dust, rocks and chalk. Nice citrusy suggestions come next; grapefruit and lemon with some richer hints of beeswax and light, delicate honey. There's also a certain dry walnut mustiness in the background adding some extra complexity. Water and time draws out some creaminess, salted fudge and a touch of sweet, ripe melon.
Taste:
Very lively and full of bright citrus on delivery: kumquat, pink grapefruit and lemon rind with some walnut and gentle waxy notes. A little background sweetness emerges with the light honey from the nose but the chalky mineral notes are equally evident alongside a waft of walnut skin/grapefruit pith bitterness.
Feel:
Crisp and fresh, almost sherbety.
Finish:
Quite clean with a touch of white pepper spice, light citrus and showing a faintly honeyed sweetness in the background.
Comment:
Another good selection from Dominiek then, and a somewhat youthful and quite austere Clynelish that mixes its light waxiness with bright citrus and varied mineral notes, before growing sweeter and more expressive with time. It's certainly one of the better 97 casks I have tasted so far, with the cask choice here bringing less bourbon wood vanilla than in a number of others.