Well, it was never going to take long for a Clynelish whisky to feature on this blog, as for fans of this distinctly individual whisky little else inspires greater anticipation than its complex, fruity and typically waxy character. Clynelish excels at a variety of ages and in a number of different cask-types, often showing a wonderfully mineral, austere profile when young and developing rich beeswax and a varied array of fruit notes as it matures. It's not always the most approachable spirit but without doubt one of the most characterful being produced anywhere in the world.
While the official 14 year old Clynelish (review coming soon) is a good introduction to the distillery's style, the independent bottlers are perhaps the best place to find exceptional examples. In recent years we have seen a number of mouth-watering releases that include the classic 1972, extremely consistent 1982 vintages and, most recently, several very good 89s such as this example from the ever excellent Malts of Scotland from Germany. Like the equally outstanding bottlings from The Whisky Agency, The Nectar, Thosop and several others, Malts of Scotland has little distribution in the U.K. Hopefully this will change in time as the quality and consistency of the cask selections are remarkable and would certainly be a welcome addition to the UK market.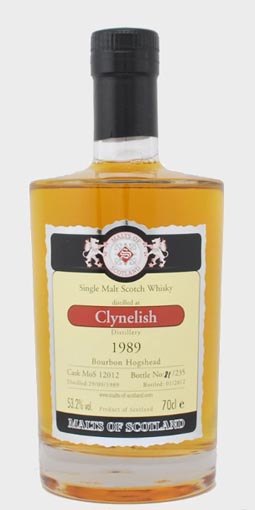 53.2% abv, Bourbon Hogshead, ref#12012, 235 btls
Nose:
Instantly open, fresh, lively and predictably waxy with a mix of paraffin, beeswax and a lovely touch of lemon balm. There is a certain grassy, mineral layer on show with notes of dry wool, limestone and hints of struck flint but with a building mix of light fruit and citrus; greengage, lemon zest, grapefruit and apple cider. A little softness and warmth is added by notes of apricot and light clover honey, backed by some faint coastal suggestions. A lovely nose, all very fresh and classically Clynelish with the spirit taking centre stage.
Taste:
Very compact and balanced on delivery with the light honey, beeswax, apple skins and pink grapefruit. Some of the dry mineral notes from the nose come next; flints and gravel, but are joined by some candied ginger, a touch of mustard and dried grass. Some late hints of briny sand and yeast round things off into the finish.
Feel:
Coating of course, but very vibrant and almost sherbety.
Finish:
Medium-long, quite clean with waxy notes, lemon/grapefruit rind and showing a little white pepper and gingery spice in the length.
Comment:
This recent batch of 89 Clynelish casks is cause for great enthusiasm amongst fans of the distillery, and this release is a perfect example of why. We were all spoiled by the many fantastic 82 bottlings released over the last couple of years and as these draw to an end, I can't help feeling slightly sad, regardless of the few bottles I may have stashed away for later. These younger casks don't quite show the same depth of complexity just yet, but regardless of this they are every bit as loveable.