Caol Ila is often regarded as a safe bet amongst whisky lovers. The spirit distilled at this, Islay's largest distillery, is perhaps some of the most consistent in overall quality of any currently produced. Berry Bros and Rudd have a similarly reliable track record as an independent bottler and continue to release casks which even at their worst are highly interesting curiosities, and when at their best are simply superb.
There are many Caol Ila whiskies available, especially single casks bottlings, and in recent times those from the early 80s have received much praise, indeed Berry Bros and Rudd have released a number of excellent examples themselves. With that in mind, each new encounter with a bottling such as this 1983 is cause for interest and I must confess a degree of heightened expectation.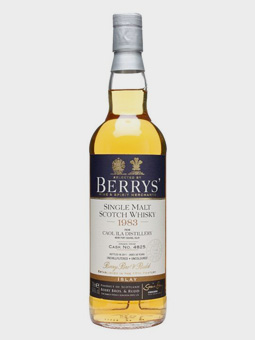 28 Year Old, 54.9% Cask #4825
Nose:
A fragrant and quite floral first impression with notes of fresh laundry, lavender, camomile and some sweet vanilla. A degree of soft smoke begins to build alongside lemon candies and growing coastal suggestions of oysters and brine. More fruit forms around the smoke; kiwi and yellow apples, while a touch of milk chocolate and toasted almond also develop. Quite a floral, delicate Caol Ila it seems but with more than enough smoke and soft oak to avoid soapy associations.
Taste:
A wonderful and very typical mix of wood smoke and lemony notes on delivery but soon joined by a growing wave of briny limestone/wet rocks and medicated bandages. More peated lemon candy-style touches in the mid palette but growing creamier with the late suggestions of milk chocolate and nuts from the nose. A hint of sweet fennel shows itself heading into the finish.
Feel:
Supple, coating and lightly oily.
Finish:
Rather clean, on mineral suggestions, hessian and brine. The whispers of sweet fennel, citrus and a little almond paste, with just enough oak to keep things feeling both balanced and well-structured.
Comment:
A fine and rather interesting cask that is quite floral early on and then shifts between coastal freshness and a richer, more rounded profile over time. Not my favourite example perhaps but it's certainly a charmer and, when given time and a little water, a Coal Ila of considerable complexity. Another good selection to add to Berry Bros and Rudd's ever growing list.
Find the best price to buy Caol Ila 1983, Berry Bros & Rudd