Here at Whisky Marketplace there's nothing we like more than an educational whisky product because, let's face it, whisky appreciation is a voyage of discovery. Every whisky we taste teaches us a little more about the magic of the cask, or the still, or the mash, or the type of oak... you get the picture. Unsurprisingly this new release from Box, one of Sweden's newest distilleries and a very stylish looking player on the world whisky scene, caught our eye.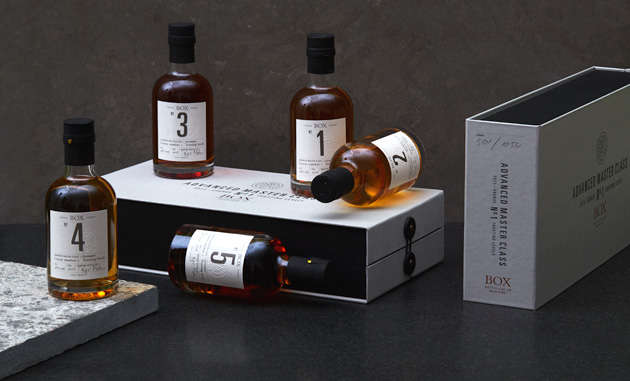 The "Box Advanced Masterclass: Toasting" is a collection of five 20 cl malt spirits matured in Swedish oak casks for 30 months. The difference between the spirits is the level of toasting of the cask each has matured in. Box Distillery Manager, Roger Melander explains, "Toasting is essential when making barrels. Whisky literature often disregards how important toasting is for the development of flavours; it can impart around 100 flavours to a whisky. Just how this process works and its significance for the whisky experience is what we shed light on in our first Master Class."
This beautifully packaged collection would make an ideal Christmas present for your favourite whisky lover, or you could treat yourself! Enjoy some fine Swedish malt spirit and learn all about an aspect of whisky making that, perhaps, isn't discussed as often as it should be.
For more information visit boxwhisky.se