Sometimes you get the chance to taste something really special. It might be an unexpected bottle pulled from a distant relatives dusty liquor cabinet, a sample that cost you more than a decent bottle or, as in this case, a wee dram received due to the generosity of a learned friend. Bowmore whiskies from the 1960s are of course one of whisky's holy grails, the nature of the spirit with its mix of intensely exotic fruit and inescapable suggestions of the sea has become the stuff of legend, debate and feverish hoarding.
The little rarity featured here was however distilled in 1955, and by no means does that diminish the anticipation, quite the contrary in fact. This is from a very scarce bottle indeed; a run of 100, 37.5cl stone flagons bottled in 1974 to celebrate the opening of the distillery's visitor centre. Happily, it seems these were distributed amongst the staff at the time, how many of them were left unopened beyond the celebrations though is anyone's guess.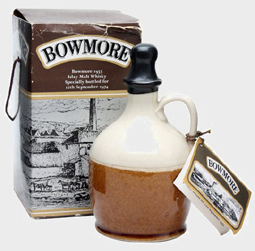 Distillery Bottling, approx 37.5cl - Unknown Strength. 100 btls
Nose:
Remarkable from the first! The most pristine, crystal clean and vividly sharp mix of acidic fruit imaginable; pink grapefruit, passion fruit and lime juice drenched mango. Behind the near unbelievable fruit basket lies an equally inescapable connection to Bowmore's shore-side location with notes of pure sea-salt and ocean breeze. Slowly a notable minerality builds while a whole range of notes take turns in joining the fray; purified linseed oil, old books and a whiff of old cigar smoke. Bracing, delicate, subtle, complex...
Taste:
So crisp, clean and dry while showing the nose's full intensity of fruit but with a greater presence of coastal notes; the freshest oysters, bracing sea salt and then a distant suggestion of peat. The fruit slowly broadens even further to encompass guava, pineapple and zesty tangerine before flickers of cigar ash, fresh copper, blossom tea, star anise and limestone take this remarkable whisky onto another level of refined complexity.
Feel:
Crisp and clean yet with a full, oily character.
Finish:
Rather long considering the spirit-led profile, with mineral and coastal notes in equal measure alongside fading citrus, a hint of bow rosin and gently drying spice/leather.
Comment:
It's difficult to put such a whisky into words, or indeed to avoid needless verbiage, as the sheer rarity and sense of nostalgia add their own frisson of importance as you pour a (the!) dram. Here though, it's difficult to say enough. This is without question the most vividly fruity "fruit bomb" I have yet tasted and surely one of the most exquisitely poised and balanced spirits one could imagine. We can speculate as to just what made Bowmore's spirit during the 50s/60s so remarkable at seemingly any age (make no mistake, this is a very pale, distillate-driven example) but suffice it to say that this beauty ranks among the very best. Lasting thanks to Angus.
Find the best price to buy Bowmore 1955 - 1975 Ceramic