BenRiach whiskies from the mid 70′s is deservedly held is high regard within whisky circles. The official single casks from 1976 first attracted people's attention in 2004 and subsequent bottlings have only gone on to solidify their reputation. They regularly show delicious tropical fruit driven profiles but, on the whole, those released have managed to avoid intrusive oakiness.
This 1975 example was bottled for Bert Bruyneel's label "Asta Morris" in 2011 and was, unsurprisingly, greeted with considerable praise on release. You will struggle to find a bottle of this one, but the quality is indicative of similar casks that are continuing to hit the market, not least Bert's own releases from the late 70s.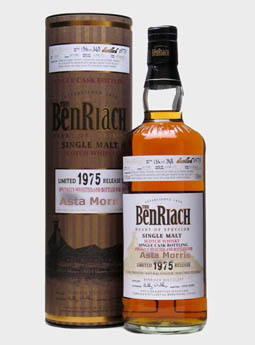 35 year old, 51%, sherry hogshead #7227, 236 btl.
Nose:
Instantly attractive and enticingly fruity, if maybe a touch reserved at first; tangerine, peach and a squeeze of grapefruit. This developing fruit is twinned with herbal suggestions in the form of fresh mint and dill, but with a sweet background of candyfloss. Things grow richer after five minutes or so with some mango, passion fruit, ripe papaya and a little lemon balm. The complexity is simply excellent and only grows further with hints of orange blossom honey, beeswax polish and a gentle thread of ginger. All very mid 70s BenRiach, all very beautiful.
Taste:
The predicted fruit basket, showing a real mix of the notes found on the nose; pink grapefruit, tangerine, mango, papaya and all this with a wonderful freshness and only the lightest suggestion of emerging oak. Light honey, soft ginger, white pepper and maybe a hint of coriander. The oak certainly expands past the mid-palette but here it serves to add structure rather than to diminish the sense of balance.
Feel:
Gentle, softly coating and very clean.
Finish:
Deceptively long and always elegant with some faintly bitter, green tea notes and remaining traces of tangerine, passion fruit and late whispers of leather.
Comment:
A well-selected and unquestionably stunning BenRiach with laudable balance, complexity and freshness. The depth of fruit that characterises these casks is in full evidence and once again the oak has worked with the spirit rather than bending it to its will over the years. Clearly the distilleries output during 1975 need not be considered a bridesmaid to the oft praised 1976 releases.