The good chaps at Caskstrength.net (over on the blogroll of course) issued their first bottling last year and have since professed a desire to bottle an A-Z of scotch. As such, the first release came from the Isle of Arran distillery, and a particularly good example it most certainly was. This time around Neil and Joel have selected an enticing BenRiach whisky and given my oft-mentioned fondness for the distillery, expectations are rather high.
You never quite know what to expect from BenRiach, from the '70s fruit bombs to the unusual finishes and peated examples it's quite the enigma. Here we have a young/mid aged example that has spent some time in a Pedro Ximenez influenced cask. PX is an incredibly concentrated, intense style of sherry and can quite easily overwhelm a delicate spirit. Judging from the colour, such issues are unlikely here and with luck this should be a fitting follow up to that lovely Arran.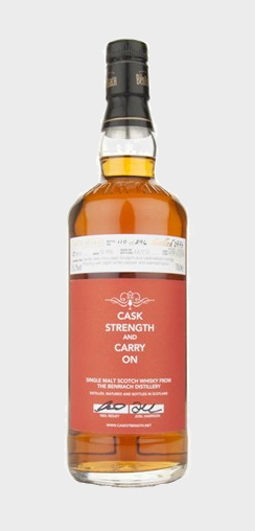 Official bottling, 1996-2012, 55.2% abv, PX sherry hogshead #5614, 296 btls.
Nose:
Slightly nippy at first but soon revealing a very bourbon-like character; vanilla sugar, toffee, pencil shavings and muscovado caramel. A certain juicy, red apple freshness finds a way through the richness and mixes with notes of pecan pie, spiced orange syrup and leather. In time the PX influence grows; ripe damsons, strawberry conserve and a hint of waxed canvas. Deeply attractive and with good width.
Taste:
Almost worryingly smooth and mellow at full strength, this one could easily creep up on you. Those big, gentle bourbon associations take centre stage at first with waves of vanilla toffee and beautifully integrated spice. Building suggestions of milk chocolate (good quality, high cocoa) come next and entwine with beautiful threads of fig/pomegranate infused balsamic and strawberry liqueur, towards the finish.
Feel:
A nice match to the rich profile; silky and gently coating.
Finish:
Medium length with some fresh-oak tannins beginning to show through alongside a little cloven spice, ginger and that persistent, heady vanilla. The bourbon-toffee sweetness remains through the length.
Comment:
Well, this is an irrepressibly charming bourbon/scotch/PX hybrid, with the emphasis firmly on the former. A lovely selection that offers another well priced take on a distillery with an already hugely varied output. Dangerously drinkable and perfect alongside a rich, chocolaty dessert….a jaunt to William Curley's anyone?
Find the best price to buy BenRiach 16 year old – Caskstrength.net