Knockdhu was always a fairly unsung single malt but for a faithful few who held it fondly, and if the old limited edition cask strength 23 year old was anything to go by, they had every reason to. Now the whisky finds itself branded as anCnoc – to avoid confusion with Knockando distillery – and is given a much greater presence within the single malt market. The positive reviews are flowing, the awards quotas growing and interest in the distillery has never been higher, which is certainly great news for this small and rather beautiful distillery.
As was touched upon in last week's musing on Balblair whisky, marketing and people, this trajectory of rejuvenation is a common theme among the distilleries in the Inverhouse stable. Maybe even Balmenach has a similar future to look forward to? The anCnoc range has centred around an often under-rated anCnoc 12 year old, a yearly vintage and a good quality 16 year old over the last years. Older examples had rested on an enjoyable, if slightly tired 30 year old distilled in 1975. This new anCnoc 35 year old effectively replaces that old, leathery gent and brings with it some ultra-modern, crisply designed packaging.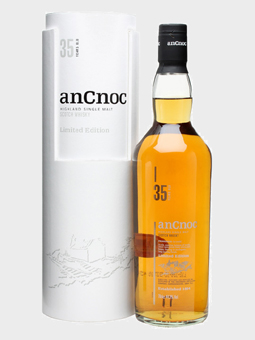 Distillery Bottling 2012, 44.3% abv, 1495 btls.
Nose:
A very expressive start with a mix of heathery, floral honey and spearmint toffee alongside frangipane, apricot jam and ripe melon. The age soon begins to make its presence felt though with notes of beeswax polished oak, pine resin and warming spices; ginger, mace and dried coriander. A really nice blend of age and freshness, that develops further on hints of camomile and orange oil, while the ginger grows more candied and mellow with time.
Taste:
Quite a rich delivery that arrives on a mix of oaken spice; the nutmeg, ginger and faint star anise followed by sweet fruit notes of apricot syrup and dried pineapple. A little mentholated, minty quality comes through in the mid-palate but is then lifted by a slightly unexpected squeeze of grapefruit and suggestions of aged leather, cigar papers and powdered cocoa.
Feel:
Satin like and gently coating.
Finish:
Medium length and growingly fairly resinous now, but with a honied, slightly nutty sweetness. Flickers of melon and papaya alternate around softly spiced, toasted oak.
Comment:
A very nice old malt that wears its age with grace, finding a beguiling balance between firm, polished oak and a sweet, fruity freshness. It may be one to try before you buy if you are adverse to such oak involvement but equally this is very nicely composed stuff that, when compared with similarly aged offerings from other distillers, represents good value for money.
Find the best price to buy AnCnoc 35 year old